There's absolutely no reason why, but for the longest time in my business email felt like a standard of whether or not I'd MADE IT.
To be clear for my marketing friends, a small business's email game is incredibly important and it absolutely can be an indicator of how well a biz is doing, but in no way was that what my brain was doing. Rather, ConvertKit was my golden standard. I (erroneously) knew that I'd be sitting pretty as soon as I was paying for that glorious email service, 17 different lead magnets and 40 or so tags, all the segments I could ever dream of – oh yeah, that was what the pros did. And that was what I was after. Except I never used the services I was paying for and that may have stuck in my craw a bit, but WHATEVS I had my ultimate online biz owner status symbol: a custom coded email template through ConvertKit, both setting me apart and signifying I was one of the cool kids.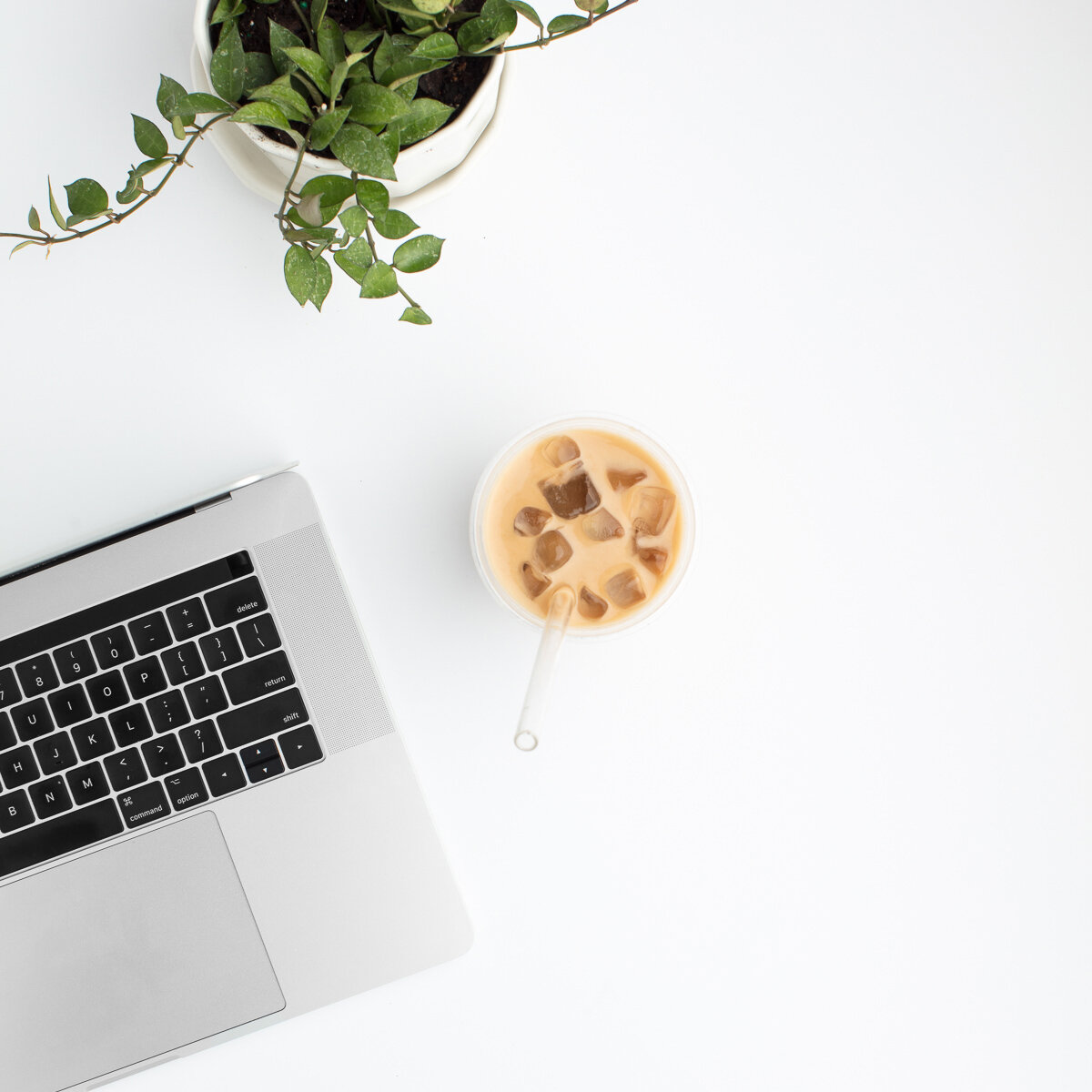 It all started to shift in Summer 2019 when I realized that my haphazard email game just wasn't cutting it and maybe – just maybe! – I could make things simpler for myself. I had a failed launch, my time was getting more and more crunched, there were multiple cross country roadtrips and moves – what if instead of attempting a weekly email that I just did NOT get, I just started sending a monthly missive? A collection of the things that were on my mind, my heart, and my shelf (can never forget my beloved books) and that could be that for now?
That felt better. That felt SO MUCH better.
But.
I was still paying $30/month for a buttload of services I didn't really need.
What did I need? I needed something that was a bit easier to set up and that made sense in my brain. I've been reassured by many that CK can have a bit of a learning curve, but despite a buttload of tutorials and I don't even want to count how many hours, it all still felt a bit Greek to me. And a mess. A greek mess. Ugh, no thank you. I needed ease of automations so I could still deliver a killer welcome sequence I'd written (but never actually made live…). And above all, I knew I needed a service I LIKED to use because after that failed launch it was clear I needed to up my email game.
RECORD SCRATCH – for those that are wondering why they even need an email platform, a quick primer:
Every business needs an email service. Social media platforms will come and go (and they do!) and in reality they own your content, but your email list – your email list is YOURS and yours forever. People who want to hear from you are giving you a very precious commodity (their EMAIL ADDRESS) because they want to know what you're up to in the world and what your work looks like. Additionally, despite what those previous paragraphs may imply, you do need some form of tagging or segmentation so that you can get your folks the info THEY WANT and not just blast your entire email list with every little update. Finally – your email platform keeps things legal. In the words of Gandalf: keep it legal, keep it safe.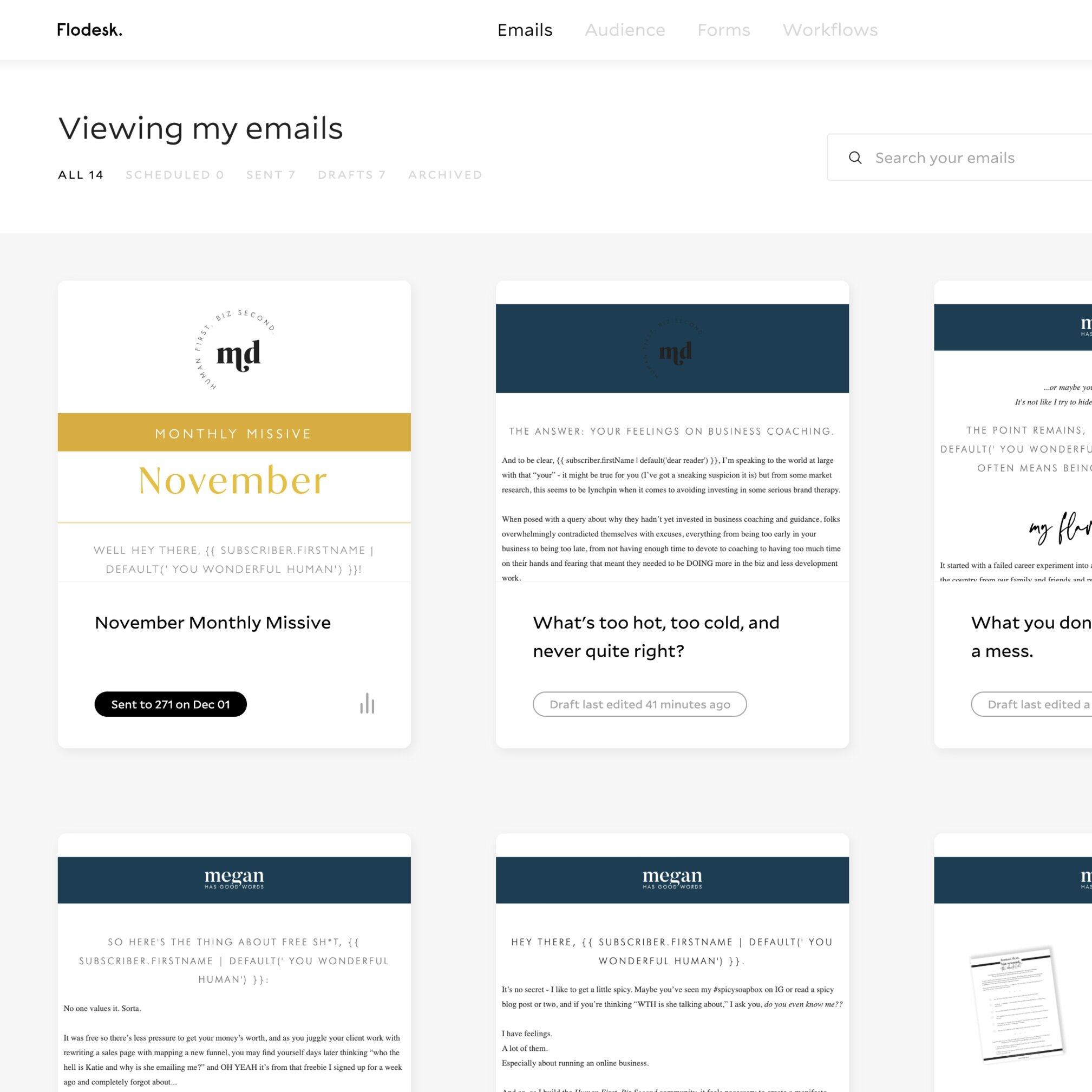 So why Flodesk?
An ultimate guide to using and setting up Flodesk is coming soon, but for now, here's what turned my eye and eventually got me to switch:
AESTHETIC
It 'shouldn't' be at the top of the list, but how it looks matters SO MUCH to me – it needs to look good and be easy to read on either a phone or desktop. Kinda like props in a movie, your email design should support everything but not detract from the main event (your actual email words) – you can always run the risk of overdesign, but I want the bulk of my energy in the words and not in an understated aesthetic. Aesthetic is one of my core values and the feel of my email on MailChimp and ConvertKit never felt right to me. I want to create an easily recognizable aesthetic to my emails that will brand my missives and set them apart in my audience's inbox. Flodesk does this EFFORTLESSLY. Between the Text Box or the Layouts box, there are more fonts than you could possibly need. And don't get me started on how much I love a drag and drop when designing shiz.
In a nutshell: Flodesk has every design choice I could ever desire. Yes please and thank you.
TAGGING/SEGMENTATION
I will be the first to admit this is something I know I need to use and with CK I could never understand how to properly use the tags and segments. Maybe because I didn't need BOTH because I'm not a 6-figure biz with 20 different lead magnets…? In any case, this is simplified with Flodesk: segments for your audience. And that's it. I can get the right info to the right people and HOLY CATS it's just so much easier for everyone involved.
AUTOMATIONS
Gimme a good welcome sequence and I'm swooning and whether or not I need your product or services, you've probably got a loyal fan for life just because I love your approach. Whether it's a welcome sequence or an email course, we all need to have some basic automations for our email list, and Flodesk makes this SO. EASY. with their 'workflow.' Bonus points – I actually understand how to set it up and got my welcome email sequence live and started within an hour or so. WIN.
Why should you consider switching to Flodesk?
Even if you're not me, I'm pretty sure the things that caught my eye have caught yours as well. If you need that extra push, consider your pocketbook: at only $38/month flat rate (no increase in cost as your list grows), it's a friggin' steal. Not to mention, yours truly has a handy little affiliate link right here, which will lock you in at $19/month. I hate this phrase, but I'm still gonna use it – you can't afford not to. Under (or really, at) $20/month is super reasonable and clearly designed with small businesses like mine in mind: I don't need 12 different tags and 42 segments, I need some basic automations, and I want to be able to track my analytics. Done, done, done. Also, the free trial period will let you mess around with ALL OF IT so you can see if it plays nice with the way your brain works.
In addition to cost, the second thing I always consider with online software and platforms is the support: I cannot abide by shitty documentation and bad support docs. Thankfully, Flodesk has email support that has always replied to ANY question I have within 24-48hrs. They also have a pretty fab facebook group (not a phrase I ever thought I'd say) for crowd-sourced Q&A and the founders are always in their with tips and tricks.
Finally – Flodesk was started by two women. And I am 100% down with putting my money toward more women in tech.
---
the bottom line:
Flodesk is where it's at. Switch here (code HUMANFIRST – all caps, one word) and level up your email game without draining your checking account.